Description
Title : Studio Ghibli Guitar Sheet Music Book w/CD
Language : Japanese. This is an official book.
Release Date : 2010
Total Pages : 96 pages
Condition : Brand New


Description:
This is a Japanese Anime (Manga) Studio Ghibli Sheet Music Book.
OP theme song & ED theme song & Soundtrack are collected in thisbook.
You can perform while hearing this CD.
Not cheap pirated copies.
If you love these tunes don't miss it!
Even if you cannot read Japanese, you will be able to play perfectly.
Please confirm the title on *You Tube* if you do not know the title wanting it.
You will be able to find it when you input the title.


Song List:
OP (Nausicaa of the Valley of the Wind)
Nausicaa requiem (Nausicaa of the Valley of the Wind)
Bird's person (Nausicaa of the Valley of the Wind)
Nausicaa of the Valley of the Wind (Nausicaa of the Valley of the Wind)
Morning of Suraggu valley (Laputa – Castle in the Sky)
Sheeta's decision (Laputa – Castle in the Sky)
Carrying you (Laputa – Castle in the Sky)
SANPO (My Neighbor Totoro)
Mother (My Neighbor Totoro)
Path of the Wind (My Neighbor Totoro)
Stray child (My Neighbor Totoro)
My Neighbour Totoro (My Neighbor Totoro)
hanyu no yado (Grave of the Fireflies)
On a bright day (Kiki's Delivery Service)
Message of rouge (Kiki's Delivery Service)
Town where sea is seen (Kiki's Delivery Service)
Substitute Jiji (Kiki's Delivery Service)
Yasashisa ni Tsutsumareta Nara (Kiki's Delivery Service)
Main theme (Only Yesterday )
Only Yesterday (Only Yesterday )
THE ROSE (Only Yesterday )
The time of cherries (Porco Rosso)
Every day where it doesn't return (Porco Rosso)
Tokini wa mukasihanasiwo (Porco Rosso)
エンゲルス・ツィマー(天使の部屋) (Whisper of the heart)
Country road (Whisper of the heart )
Princess Mononoke (Princess Mononoke)
asitaka to san (Princess Mononoke)
asitaka sekki (Princess Mononoke)
Quit Being Alone (Tonari No Yamada)
Ano Natsu He (Spirited away )
itsumo nandodemo (Spirited away )
Kaze ni Naru (The Cat Returns)
Merry-go-round of life (Howl's Moving Castle)
Sekai No Yakusoku (Howl's Moving Castle)
Teru No Uta ('Tales from Earthsea')
Ponyo on the Cliff by the Sea (Ponyo on the Cliff by the Sea)


Other Images:


SANY4611.jpg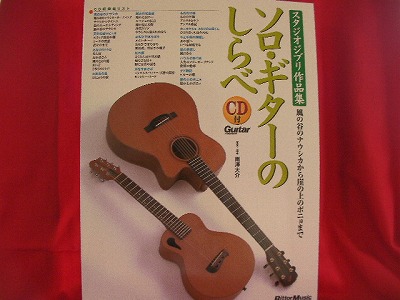 SANY4612.jpg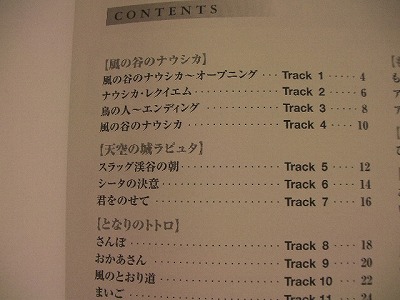 SANY4613.jpg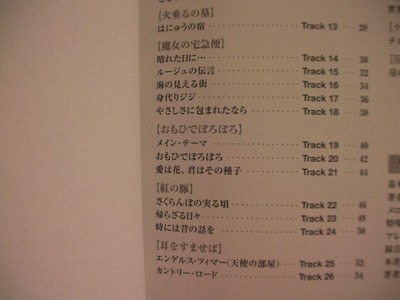 SANY4614.jpg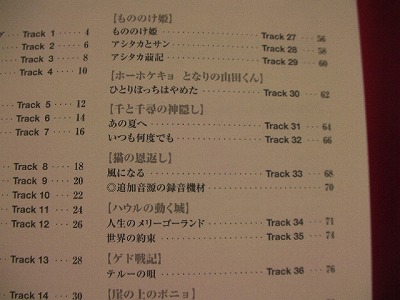 SANY4616.jpg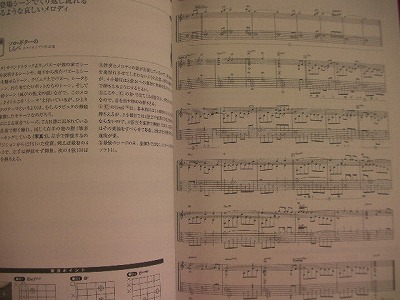 SANY4617.jpg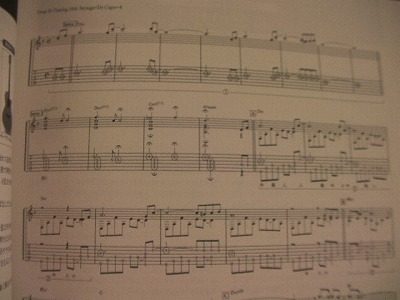 SANY4619.jpg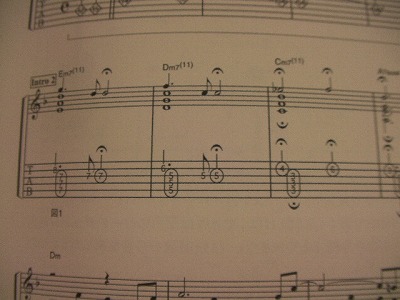 SANY4620.jpg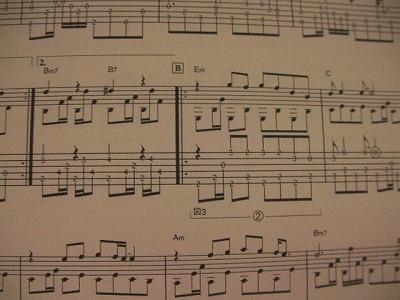 SANY4621.jpg