Description
Title : Only Yesterday Soundtrack Piano Sheet Music Collection Book
Language : Japanese. This is an official book.
Release Date : 1991
Total Pages : 124 pages
Condition : USED, Good, No missing page.


Description:
This is a Japanese Anime (Manga) "Only Yesterday" Sheet Music Book.
OP theme song & ED theme song & Soundtrack are collected in thisbook.
CDs is not included in this book.
Not cheap pirated copies.
If you love these tunes don't miss it!
Even if you cannot read Japanese, you will be able to play perfectly.
Please confirm the title on *You Tube* if you do not know the title wanting it.
You will be able to find it when you input the title.
If you love this Anime don't miss it!

Song List:
Main theme
mi
Maim Maim
Hoshi no furamenco
Ohanahan
Hyokkori Hyoutanjima
Kokekokko no uta
Pure boy
Hyokkori Hyoutanjima ending theme
Omoide no nagisa
Tokyo blues
Damatte ore ni tsuitekoi
Sayonara wa dance no atoni
Sukininatta hito
Omoide poroporo
TEREMTES
FUVOM AZENEKEM
HAJNALI NOTA
CINTEC DE NUNTA
STORNELLI
Ame no benibanatsumi
Theme vriation ABE kun
Theme song
Yokan
Wagamama
Danjo kousai
Inaka shirazu
Idol
Kyuusyoku
Seiri no ohanashi
Kokoro no tabi
Benibanatsumi
Abe kun
25 ten
Benibana
Joukei


Other Images:

20110119IMG_0018.jpg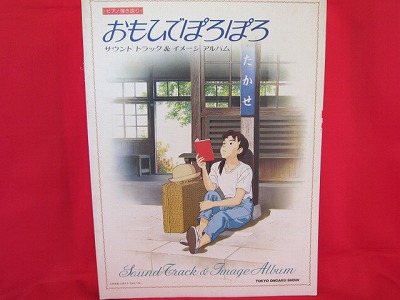 20110119IMG_0019.jpg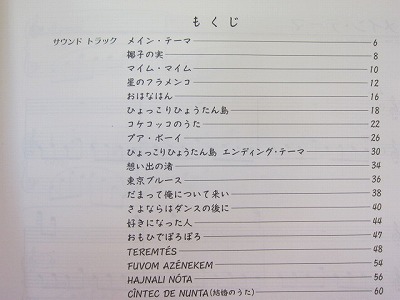 20110119IMG_0020.jpg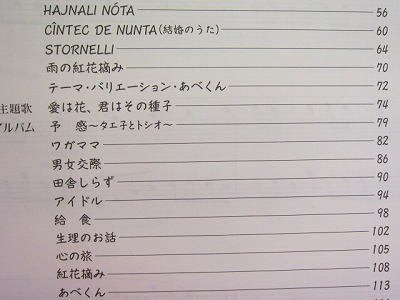 20110119IMG_0021.jpg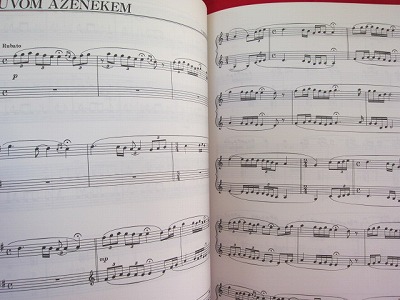 20110119IMG_0022.jpg